Local traders scoop awards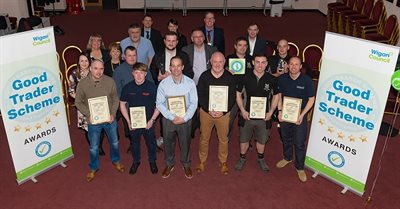 The annual Good Trader awards were announced this month (March) with many local traders being recognised for their excellent service to residents.
Wigan Council's Good Trader Scheme was set up in 2008, to promote companies and individuals who are trusted and respected in their field of work and display their commitment to providing quality and value for money work to local people.
It also gave residents an alternative to dealing with uninvited traders and being possible victims of doorstep crime.
The Good Trader Scheme members, from a range of different sectors, were all judged on the quality and volume of customer feedback they have generated in the last 12 months.
The six Good Trader of the Year for 2018 winners and runner ups were:
Winner (Wigan) – KDM Electrical
Winner (Leigh) – Ferris Electrical & Ferris Property Maintenance
Highly Commended (Wigan) – Royal Home Improvements
Highly Commended (Leigh) – Gary Sanderson Carpets & Vinyls
Best Newcomer (Wigan)- Case & Young Limited
Best Newcomer (Leigh)- Grimshaw Autos.
Councillor Kevin Anderson, Wigan Council cabinet member for environment, said: "It's extremely important to recognise the traders who work hard to provide a high quality service to residents. The Good Trader scheme is a great resource which supports around 200 local businesses and is a key part of The Deal, whilst at the same time makes it difficult for rogue traders to take advantage.
"Congratulations to all the winners and runner ups but also not forgetting every single one of our registered traders of the Good Trader Scheme."
Mark Grimshaw, director at Grimshaw Autos, who were crowned best newcomer, said: "Myself and the staff at Grimshaw Autos are proud to be receiving this award and proud to be part of the Good Trader scheme.
"We would like to thank our customers for their support and we will endeavour to maintain the high standards they expect and deserve."